The Steal Your New Funswick shirts came about one day when Mayor of Festival Town and photoshop wizard Doug Flatt came up with this nice little mash of two of (many of) our favourite things: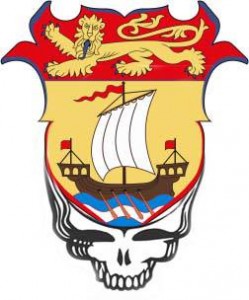 Our community of friends on Facebook went a little wild that day, and before long I was looking into having shirts made. It just so happened that a friend in Montreal had recently started a screen-printing business, so it seemed the stars were aligned. (That would be my friend David, and his company
Machino
.)
The only limitation was that we could only do four colours. The printing system is basically four silk screens on a rotating lazy-susan style apparatus with one panel that holds the shirt in place. Alas, this meant sacrificing the blue out of the flag and using red, yellow, brown, and white (plus the colour of the shirt) to make the design work. If there's ever an upgrade and an option for a five-colour print, you better believe we'll get the blue in there! Until then, we'll just have to make do, though.